Hawaii Labradoodles!!
Aloha! We are excited to bring locally bred Labradoodles to Hawaii.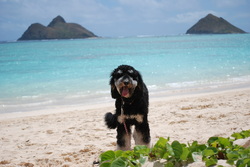 Our Live Aloha Labradoodles Ohana consists of Veronica and Casey Fitzgerald, daughter Leah, Maya (Labradoodle), Cruise (Labradoodle) and Rizzo (Cairn Terrier). We all currently reside in Ewa Beach, Hawaii on the island of Oahu.

Veronica grew up here on Oahu, in Kailua, on the Windward side. She's had many pets and has always been an animal lover who's enjoyed caring for pets since she can remember. Before the start of her second career as a Registered Nurse, Veronica's first career was as a Veterinary Technician/Office Manager for several years She is well versed in all aspects of dog and puppy care. Casey is originally from Huntington Beach, Ca. where he was also raised with many pets and has always loved animals.

A few years ago, our little Jack Russell (Lucy) passed away and we were longing for another dog. We had a wish list of sorts that we had in mind for our next dog:
great temperament and personality
low to no shed
bigger breed

During our search, we came across the labradoodle breed which fit the description perfectly. But it couldn't be that easy... We wanted a unique phantom colored labradoodle.Until now, finding any quality multi-generational labradoodle puppy in Hawaii was impossible. In our diligent search we came across a breeder in New Zealand, Willowbrook Farm, who had just had a litter of phantom colored labradoodles. We worked closely with the breeder and finally chose to make Maya part of our family. We were updated weekly with her progress, provided pictures of her during the entire process and enjoyed a very friendly dialog with the breeders. We anxiously awaited her arrival until she finally made her big voyage at 12 weeks old. We instantly fell in love with her. She is so kind, loving, smart, and obedient. Just a beautiful dog. She loves to watch animal planet, enjoys her tummy rubs, car rides, and loves to snuggle.
---
Maya turned 6 years old in April 2015. She has successfully passed all of her health examinations and tests.

We have recently decided to add the most gorgeous breeding stud into our breeding program. He is a 3 yr old mulit-generational labradoodle that we are importing from New Zealand through Kiwi Pride Australian Labradoodles. His name is Cruise and we are hoping to have much success with upcoming litters with him and Maya.
We are committed to providing Hawaii with excellent multigenerational labradoodles. Both parents have gone through extensive testings for hip and elbow dysplasia, PRA testing and are CERF certified.

If you are interested in being placed on the wait list for the next litter, please fill out a puppy application.
Mahalo for visiting our website!